Availability Per Account Type
Description
These custom URL fields allow you to create default web addresses (URLs) that redirect the viewer to your specified web pages when activated. You could use your videos/media section of your site or your home page. Technically, you can put literally ANY URL you want to into these fields.
These redirects are a normal and common occurrence. One of the ways a redirect can happen is when someone is copy-and-pasting your video link into an email or web browser to share with someone, and they don't get the entire web address, a wrong page and possibly a 404 error commonly comes up instead of the intended video. If the Redirect URL fields are properly filled out, at least the browser will redirect to a page on your site instead of "Nowhere's Error Land" by default.
Setup
The Free Trial account is actuality in a White Label account.
The White Label Custom has more fields to populate than White Label because of the added feature of assignable roles for sub account logins.
Step 1. Using the header navigation, go to your MY ACCOUNT page.

Step 2. In the White Label sub section, place a any destination URL in the Redirect URL text field. This can be any URL. Then make sure to Save your changes. Now when a end user goes to one of your player's quick view URLs or landing page URLs then tries going to the base domain, they will be redirected to the new destination you selected for them.
Trial / White Label Accounts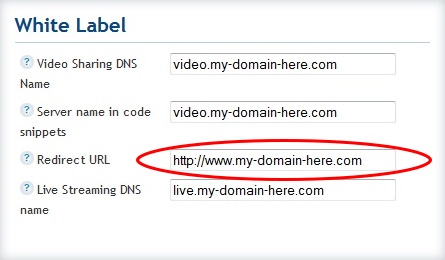 White Label Custom Accounts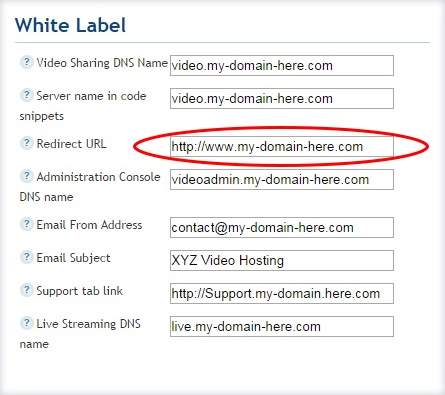 Result – Examples
If / when some one goes to one of your player's quick view URLs / landing page URLs;

then tries going to your players root domain.

The page will be redirected to a page you designate instead of showing a broken / blank page. You can redirect them to a media/video page on our web site, a home page, even a 404 error page hosted on your web site. In our example you are redirected to the account owner's home page.