Availability Per Account Type
Description
Setting up your White Label branding is simple and can be completed in minutes. You begin this process by logging into the host of your domain. We will use Godaddy.com as an example. Then you simply go to your DNS manager and make a few CName records that brand our URLs as your own. Add these new CName domains to your EZWebPlayer account's MyAccount page and you are ready to go. Our player/livestream URLs and customer login pages are now using your branding.
This feature is a unique and somewhat exclusive to EZWebPlayer and is a huge branding and marketing boon that helps you achieve forward motion on growing your audience and client base.
Wikipedia's description of CName
Creating A CName Record
Step 1. Log into your web host. For this example we will be using GoDaddy as the web host example. Your particular web host's DNS control panel will look different. Even GoDaddy's control interface may look different than this image, but the process is the same.
Once logged in, click on your My Account drop down menu in the header and select Manage Your Hosting.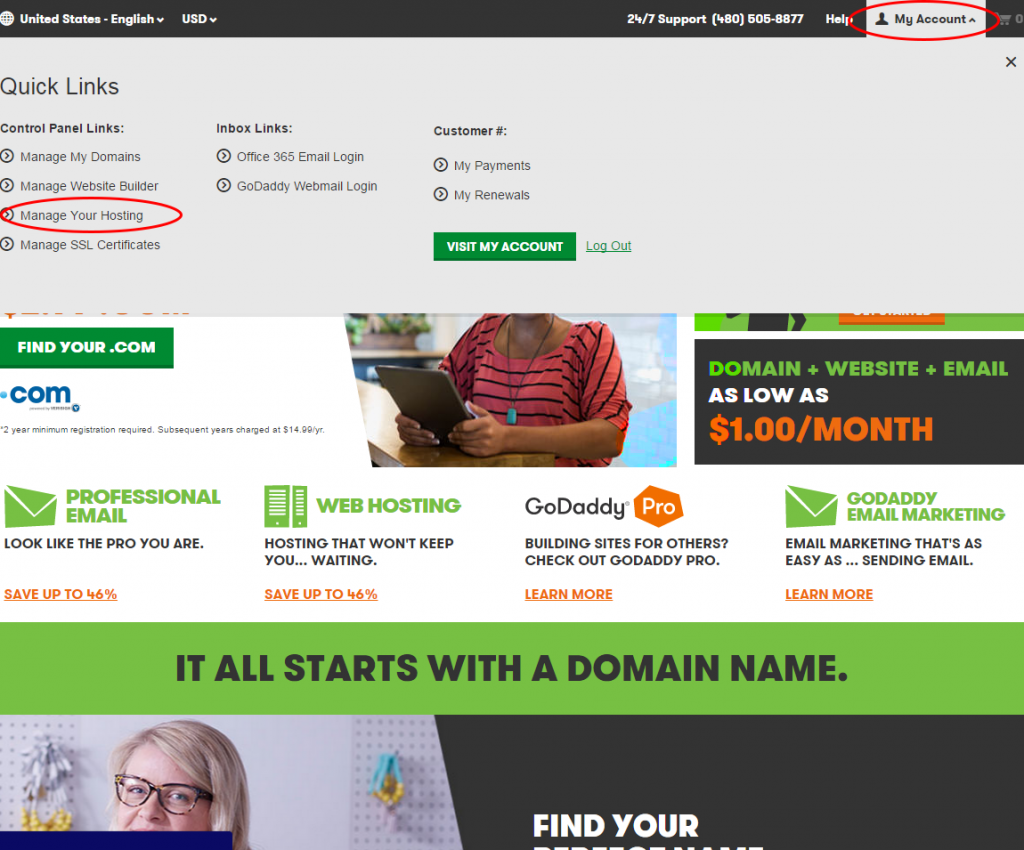 Step 2. Click Manage for your main domain you wish to attach to your EZWebPlayer account.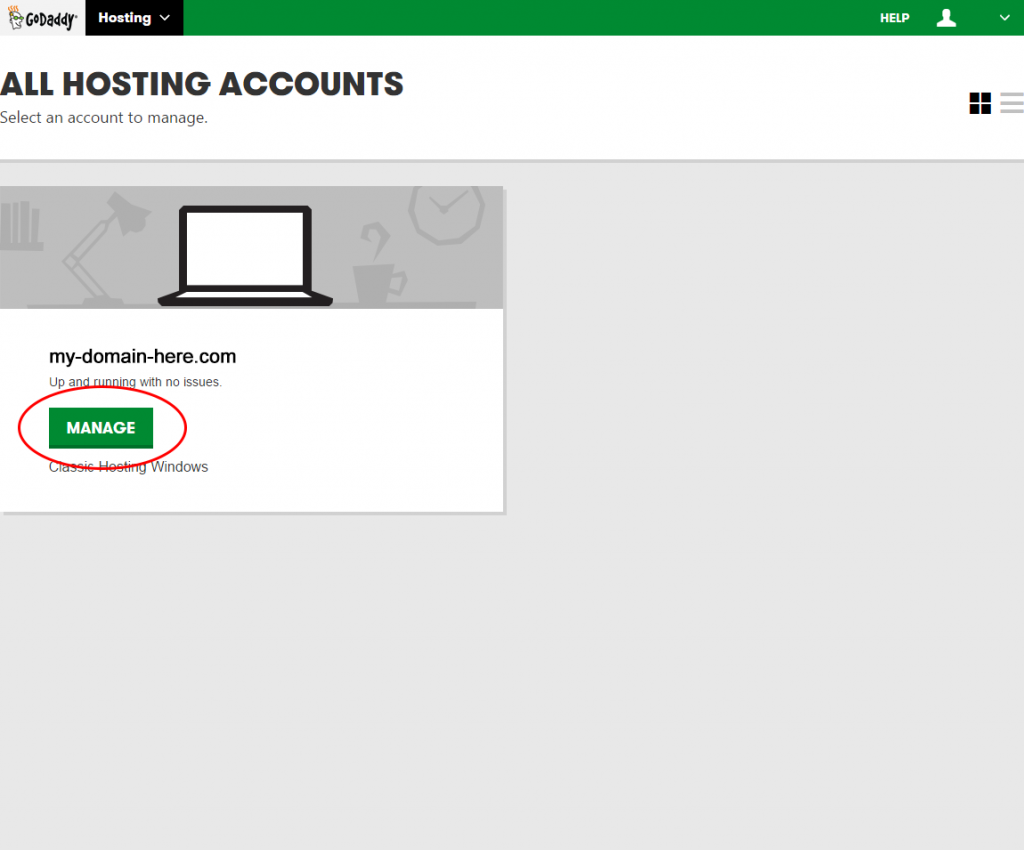 Step 3. When you make it to the Hosting Details for your domain, select your web host's DNS Manager option.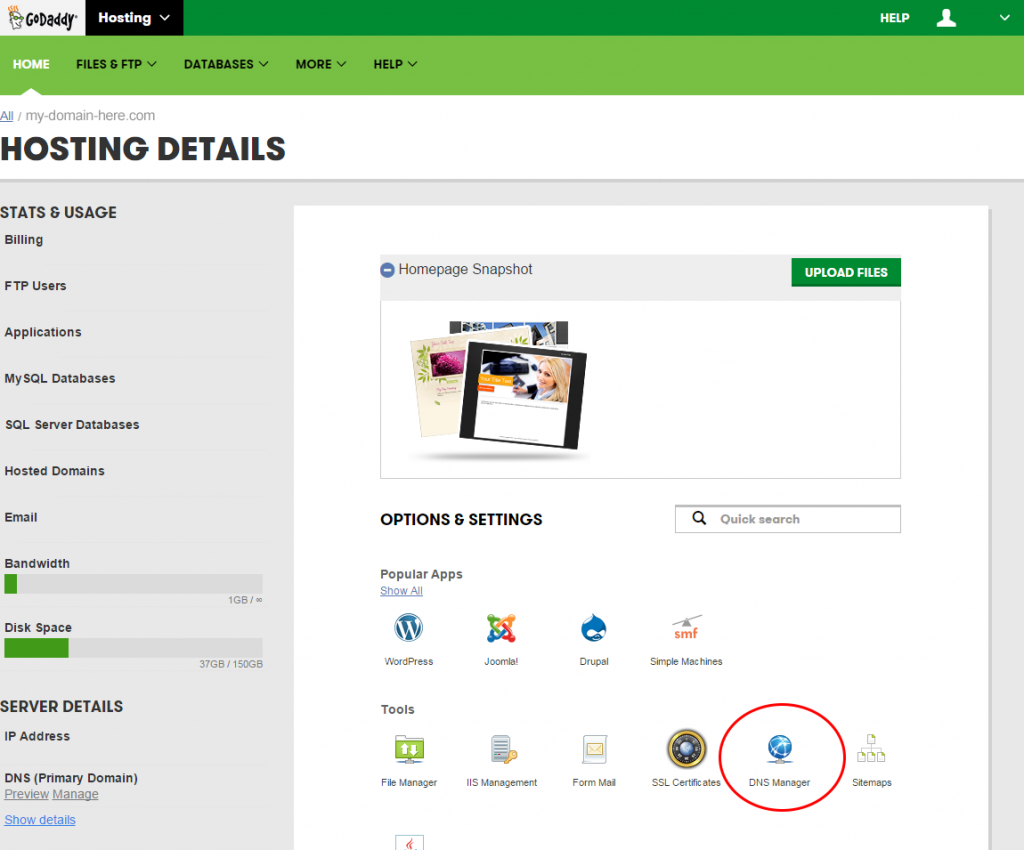 Step 4. Click Add Record to create a new CName record for your domain. You will need to make (2 CName records for a White Label account) or (3 CName records for a White Label Custom account), .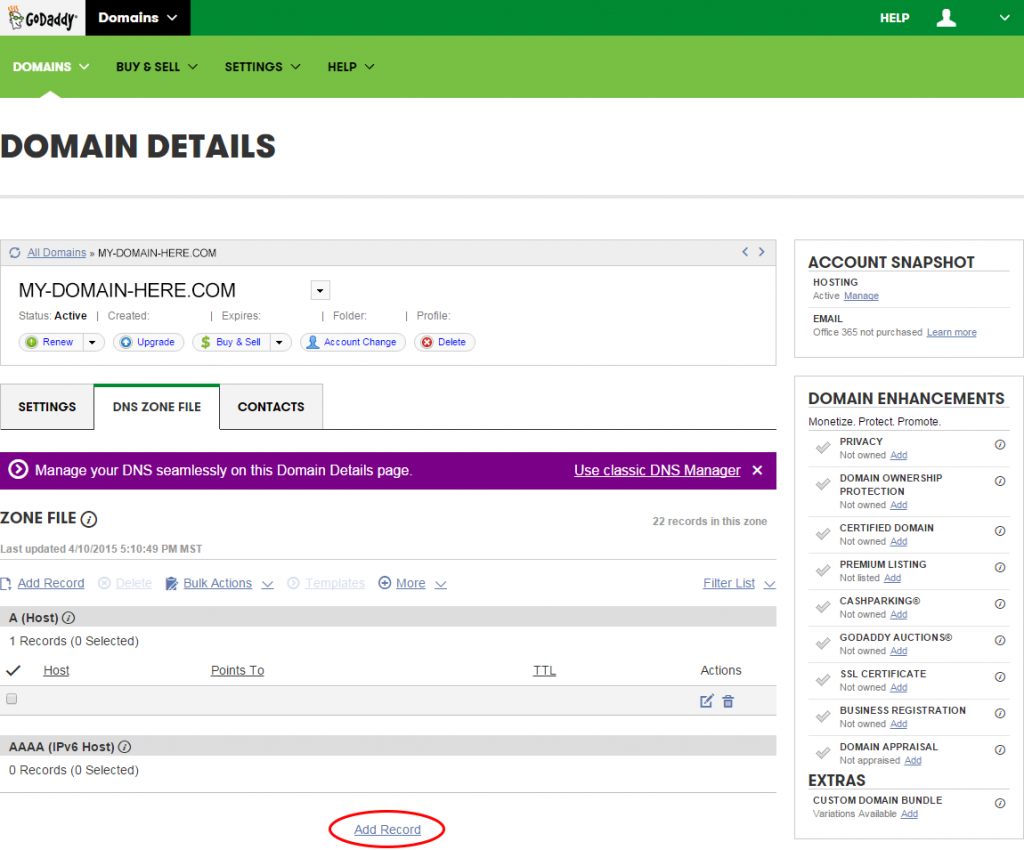 1. The "video" CName Record
The first CName will need to point to "ezwp.tv". This will be used when pointing to the video record.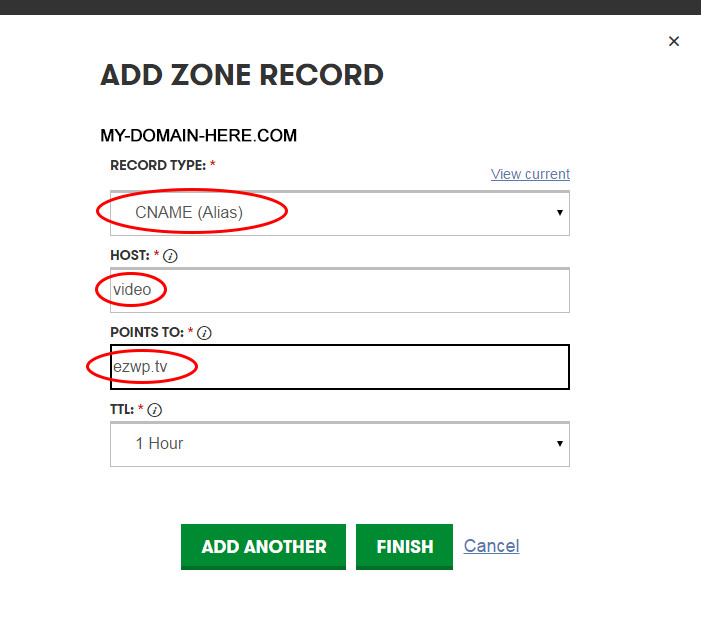 The "video" CName record will change the domain in a players embed code.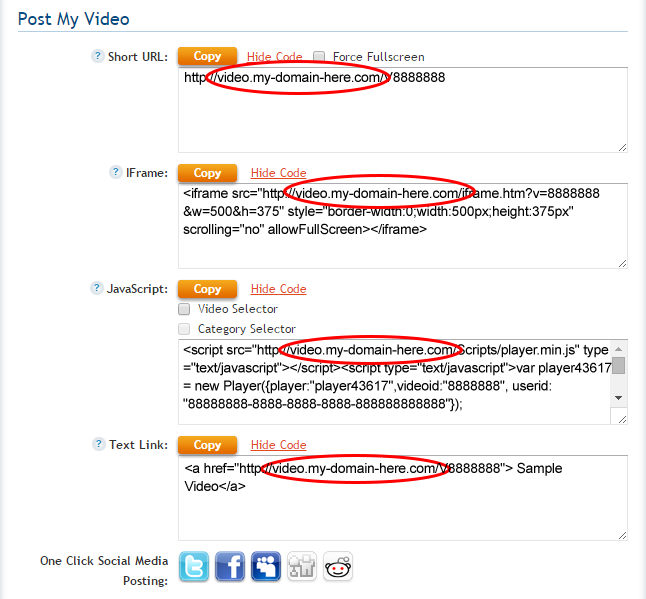 As well as the domain for a player's quick view url.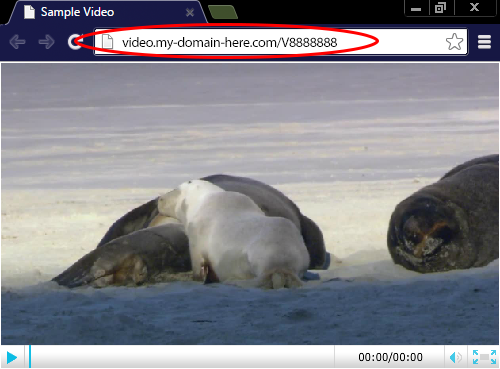 2. The "live" CName Record
The second CName will need to point to "live.ezwp.tv". This will be used to connect your live stream to our Adobe Flash Media Server.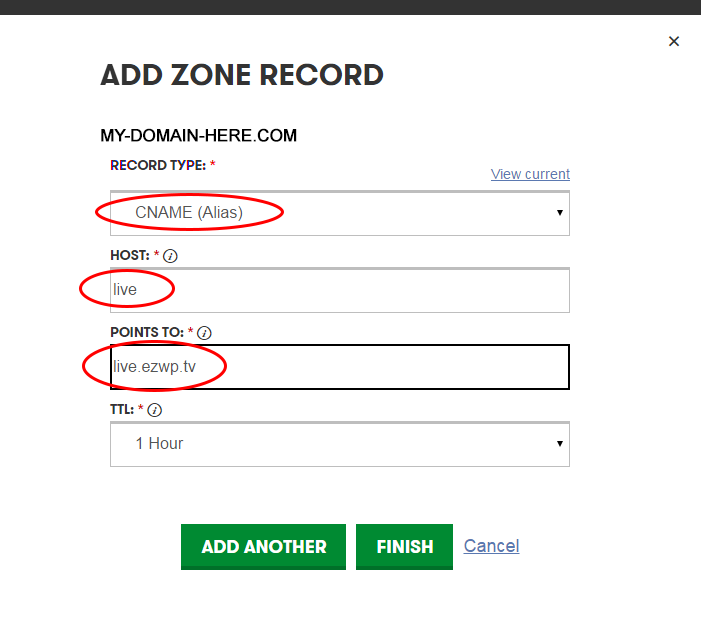 Once created you will see the domain of your live streaming play's Flash Media Server URL change to your domain.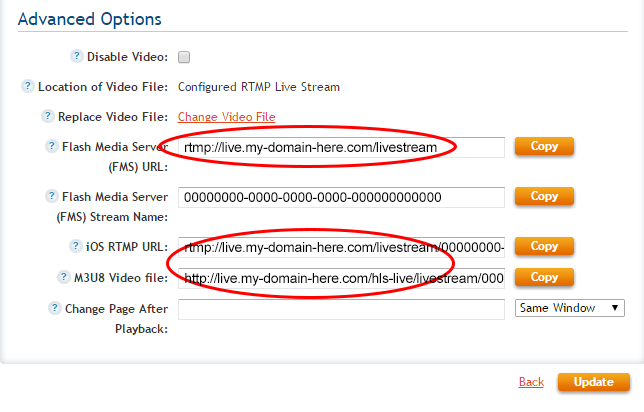 3. The "videoadmin" CName Record
(For White Label Custom Accounts)
The third CName will need to point to "my.ezwebplayer.com". This will be used to point your future clients to your EZWebPlayer branded login page so that they can create their own sub accounts.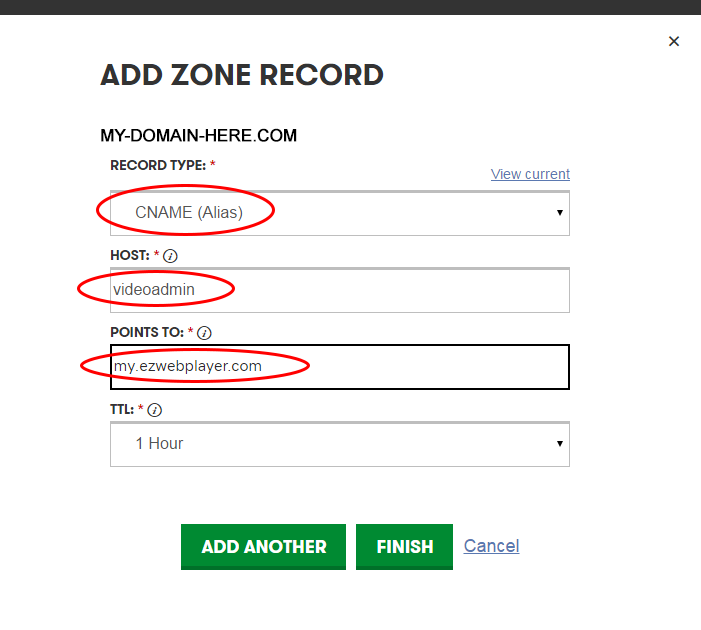 Once created you will be able to send your clients to https://videoadmin.your-domain-here.com/ to allow them to make sub accounts that you can then manage.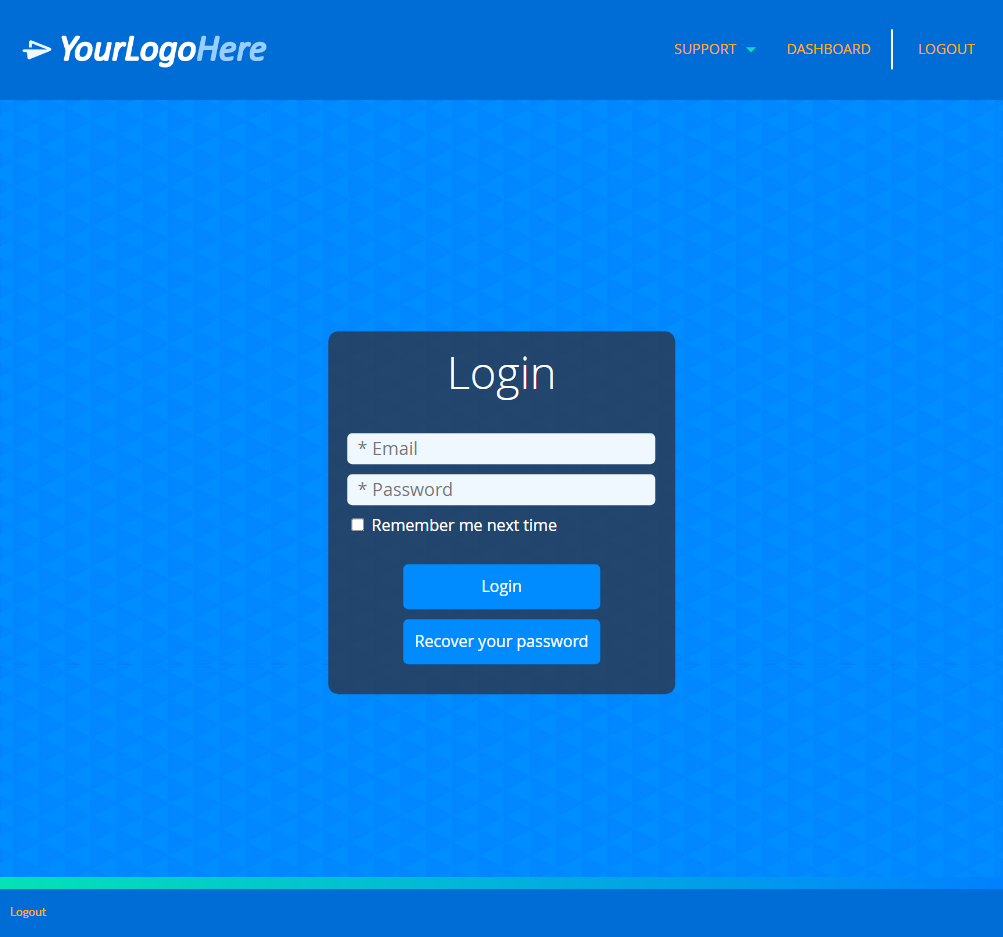 Attaching your CName Records to your EZWebPlayer account.
Once your CName records are created you can then add them to your EZWebPlayer account by going to your My Account page and input the information shown below into the sub section titled White Label.
Trial / White Label Accounts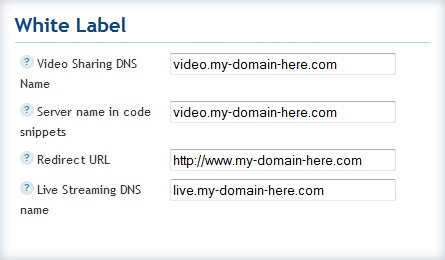 White Label Custom Accounts