Availability Per Account Type
Introduction
Replace a video file without making any other changes. This gives your video a permanent video address. Clicking on the Change Video File button brings you to the uploader which facilitates uploading a different video. No other changes are made, not even the title, unless you want to of course.
Marketing Genius
Another way to use the Change File tool is by creating a powerful multi-fronted marketing deployment of your video. This means placing the video code in all of the web placements you need: Social media (like Face Book), your blog, in an email tool like Mail Chimp and on your web site landing page. Then, next week, simply change the video file. You have just deployed the new content all over the web, in one stroke.
Want more on this unique marketing idea? Contact Us and mention that you want to hear more about Change File Video Deployment.
Getting Started
Step 1. Click on VIDEOS.

Step 2. Go to the Settings of the video.

Step 3. On the Video Details tab, scroll down near the bottom and click on Change Video File.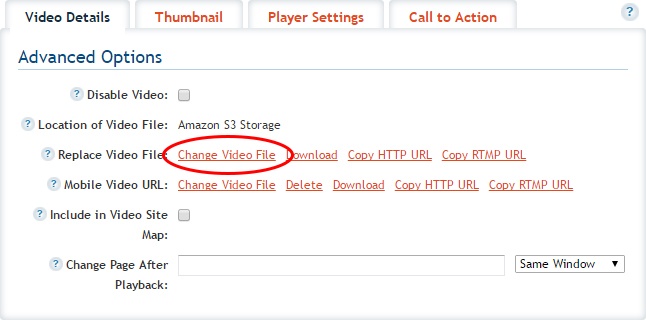 Step 4. The page will auto scroll to the top and the player will have been switched out with the Add A Video window. Now you can replace the video file by uploading a new one. Click on Upload and choose the new file. No need to redeploy the player. Your feature video should now be replaced with the new video.