Availability Per Account Type
Introduction
The pre-roll or post-roll CtA are short video segments that play before or after your parent video. You must have these videos populated into the CtA asset list before associating them with a parent video.
Getting Started
Step 1. Click on VIDEOS.

Step 2. Find your video you want to add the Call to Action to and click on Settings.

Step 3. On the Call to Action tab, click on Pre-Roll to initiate a Call to Action video that plays before your feature video. If you want the video Call to Action to play after your video then make sure to click on Post-Roll instead.


Step 4. Choose the asset and click on Add.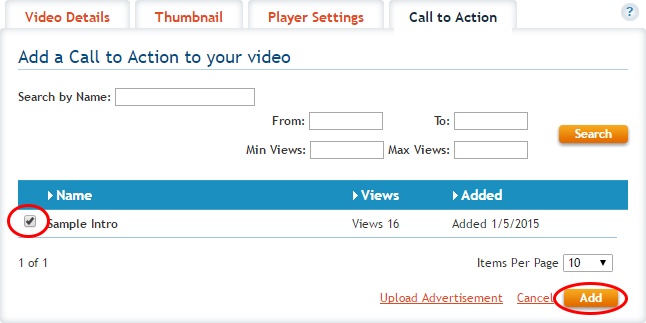 Step 5. Click on Update to save this Call to Action image to your player.

Resulting Player
The pre-roll Call to Action starts off this player for 9 seconds before starting the parent video.