Availability Per Account Type
With Auto Play turned on but all interaction allowed in toolbar
Sample 1.
Video with edit panel
(in Roll-Over state)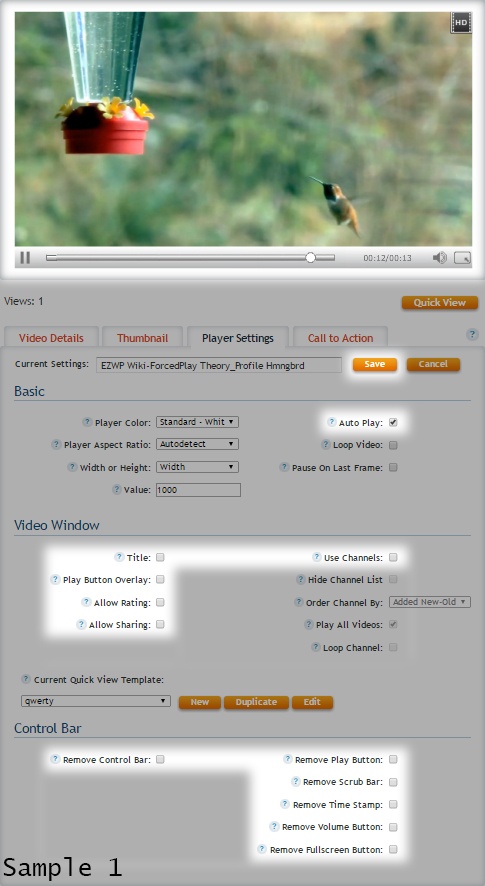 Sample 2.
Video screen only
(mouse is not rolled over Player)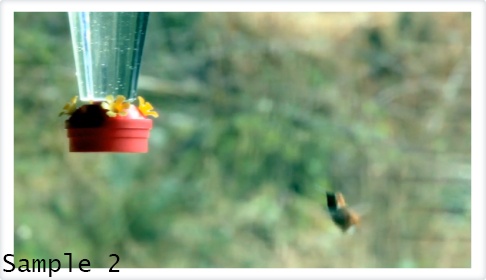 Above Samples are with these settings;
Auto Play turned on
Channels turned off
Title turned off
Play Button Overlay turned off
Allow Rating turned off
Allow Sharing turned off
Toolbar turned on with nothing removed from it
Some companies spend considerably more resources before making interface change edits. The smart people who understand mass appeal and the cause and effect of even the smallest changes do not take these decisions lightly.
If you remove the entire toolbar, and all onscreen layers like SHARING, VOTING, etc. The video window becomes a seamless part of a web page with literally no control available by the user. They can't adjust audio volume, affect play by clicking pause, nor scrub through the video using the scrub bar.
Understanding your user is extremely important. If limited use of a video player to this degree is what you want your viewer to experience, then use it to its full potential. But, make sure that you are adding value to their understanding of your product, not irritating them to never come back. Their like or dislike of your changes can be discovered by you're A/B testing and polling. Simply getting your visitor's opinion as well as watching the numbers after each page interface change is huge leverage for your design department's efforts to increase each page's visitor count and time on page.
Make sure the video that is playing is short, the content is to-the-point, and an appropriate CtA (Call-to-Action) is attached at the end or pops up in a timely location during the video's play.
You may wish to NOT remove the entire toolbar, but allow the Audio Volume Control and View Full Size button to remain. They show up as Roll-Overs.
With Auto Play turned on but toolbar only allowing Volume Control and View in Full Screen button
Sample 3.
Video with edit panel
(in Roll-Over state)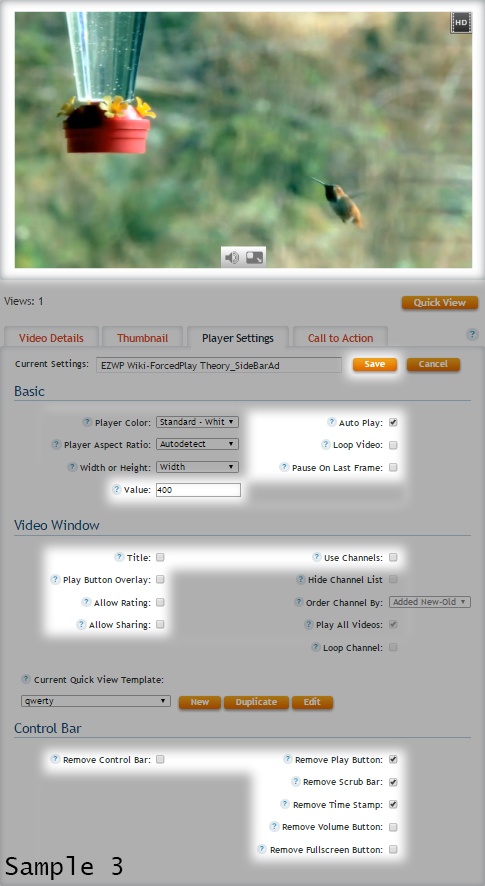 Sample 4.
Video screen only
(mouse is not rolled over Player)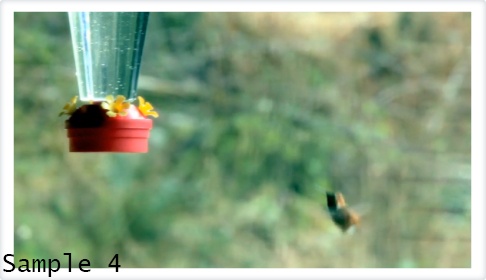 Above Samples are with these settings;
Value of video screen Width is only 400
Auto Play turned on
Loop Video turned off
Pause on Last Frame turned off
Channels turned off
Title turned off
Play Button Overlay turned off
Allow Rating turned off
Allow Sharing turned off
Toolbar turned off with only Volume and View in Full Screen turned on
Typically, a side bar forced advertisement can be configured in a smaller video player but allow for Full Size. Brevity is important here, especially if there are fewer or no interface controls.