Availability Per Account Type
Introduction
Disabling a video merely makes it unplayable. This should be described strictly as a playable/non playable function, limited in time only by when you choose to enable it once again. Disabling a video makes no other changes to any settings. Even the SEO stays in place. Your sitemap is not affected nor any SEO weight in which that player on that page may have a part.
In short, two things happen when the disable video box is checked;
The player changes from its normal state to a blank white screen that displays the text message, "Sorry, but this video has been disabled."
Any attempt for viewers down stream to view the web page on which the disabled video is located are met with the fully loaded URL page and the blank video player. This is the same condition regardless of desktop, laptop or mobile device, email link or website.
It should also be noted that what you see on your EZWebPlayer control panel differs from what viewers see on the web page where the disabled video player is deployed.
Getting Started
Step 1. Click on the VIDEOS button in your top toolbar.

Step 2. Click on SETTINGS.

Step 3. Click in the Disable Video check box.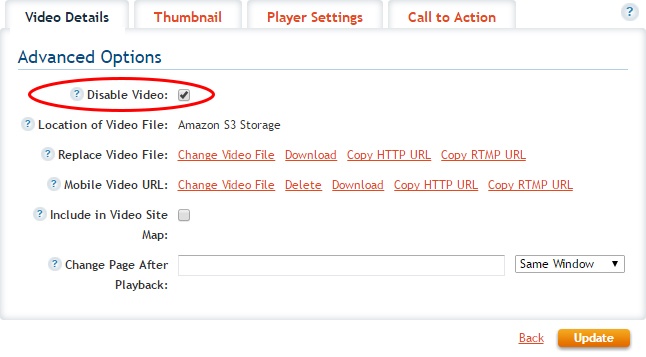 Step 4. Be sure to Update your changes.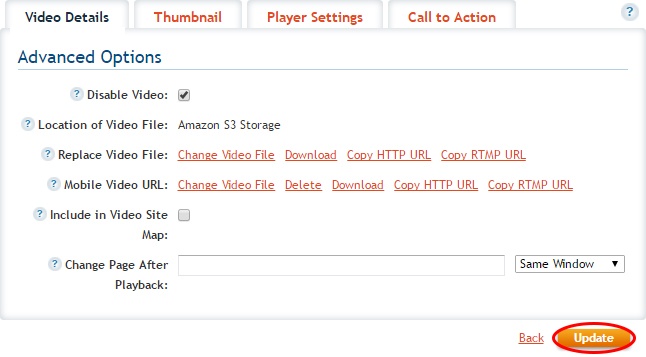 Resulting Player
This is what viewers of a deliberately disabled video will see.