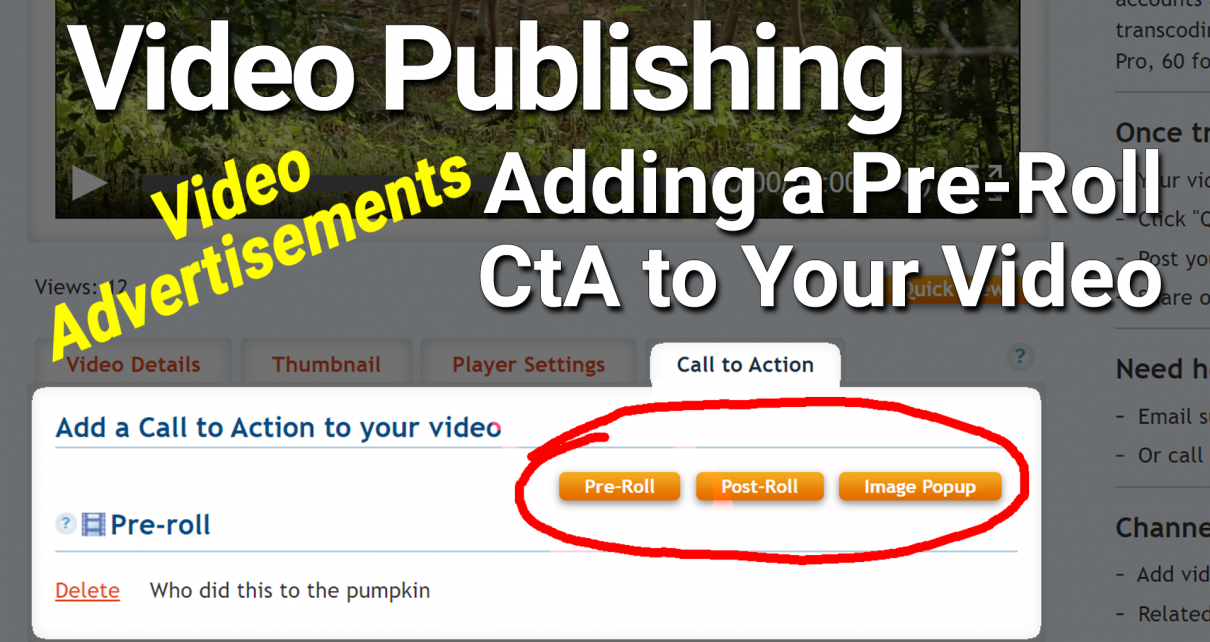 This super short video in our Video Publishing Series covers attaching an existing CtA video to one of your feature videos as a Pre-Roll CtA. Before associating a CtA element to a feature video, you must first upload that element to your CtA cue under the Call to Action tab on any video's Settings page.
There are prevailing reasons to use Pre-Rolls, Post-Rolls and Pop-Up CtAs with your videos. First, let us define the term, CtA.
What is a CtA?
CtA comes from Call to Action and refers to "…the part of your message that tells your audience what to do. If written right, it also makes them feel inspired to do it."—Grammerly, July 5, 2018.
"Call to Action" is what EZWebPlayer calls our separate advertising module. It is the included feature in all account levels that hands you the powerful option to attach a short Pre-Roll or Post-Roll video to your feature video, or insert a Pop-Up image at a designated location inside the feature video that can include a link to a separate web page anywhere in The World Wide Web.
A CtA can be a written message anywhere that is part of a marketing or advertising asset, like a roadside billboard, a magazine ad or an email. A CtA can also be found in radio and TV ads and in electronic media like web sites, banner ads in social media or those annoying Internet pop-ups that we all try to block.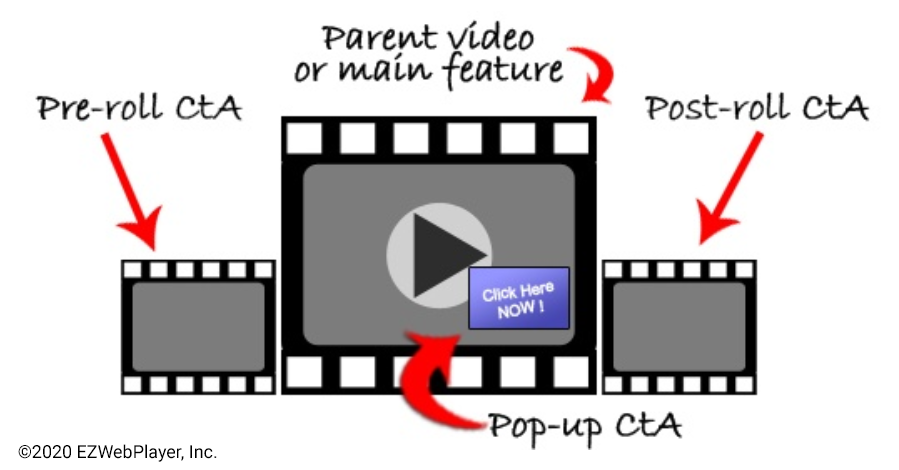 But, a well handled Call to Action doesn't have to be annoying or déclassé' and unfriendly. Most professional CtAs are actually helpful to the viewer and often quite necessary.
The CtA is actually most often included inside the advertising asset instead of being a separate element. But one of the huge assets to have a separate CtA is serving as a versatile tool for add-on messaging. The biggest benefit of the separate CtA is enabling, disabling and changing out to appropriate and different messaging as needed without affecting the parent or feature video. And, EZWebPlayer's CtAs are interchangeable with all of the other videos in your account. Once uploaded to the CtA cue, all of the CtAs appear in the CtA list for use across the entire account.
Also, the attached CtAs don't have to motivate the viewer to do anything at all but can simply serve as reminders as well.
One of the exclusive and unique features of EZWebPlayer's CtA module is that after you have already posted your parent video to a web site or social media or shared the link in an email campaign, the adding of a CtA is an automatic programming function that works in the background and follows the video code wherever you sent it. The result is that those who view your video are able to enjoy the CtA change virtually immediately after you make the change, as shown in this video.
Click on SETTINGS in any of your videos on your Vidoes Page, then The Call to Action tab, then choose which type of CtA you need and follow the menu choices.

This post deals only with
introductory information about the Pre-Roll CtA.
The Pre-Roll is a short video that automatically plays before the feature video. So, when the viewer clicks on Play, they first see the Pre-Roll, then the feature video begins playing automatically at the end of the Pre-Roll CtA.
In practice, the Pre-Roll can be literally anything but the savvy marketer uses only content that would be helpful and even expected by the viewer. Being offensive, irrelevant, too long or too salesy is a turn off to viewers and reduces the viewing minutes and hits to a video and web site.
A good example of a properly used Pre-Roll in marketing on a sales site could be a 10-second video that announces that a store's hours have changed for a holiday. The pre-Roll can then be easily disabled after the holiday with a single click. Another good content application example could be an announcement that the product about to be viewed is offered at a discount for a limited time.
Regardless of how you use a Pre-Roll CtA, EZWebPlayer makes it extremely easy to use, manage and organize all of your CtAs.
If you are new to EZWebPlayer, you can try this and all of our features for free by clicking on the Sign Up button on our web site.