KEY QUESTIONS & ANSWERS
ABOUT POSTING VIDEOS ON YOUR CHURCH WEBSITE
FREE TRIAL + Special Offer for Places of Worship
"WHY SHOULD WE SHARE VIDEOS on our Church Website?"
Every church has the potential to reach a much, much broader audience by spreading the Word of God using today's universal venue – online video.
Videos on your church web page make it come alive and e-x-t-e-n-d the reach of your message. Posting new videos regularly keeps visitors returning to see what's new.
Posting videos helps build connection and fellowship among your congregation. Those unable to attend church can still be connected and part of the group. And easy online access to your church videos helps VISITORS AND NEW MEMBERS get involved.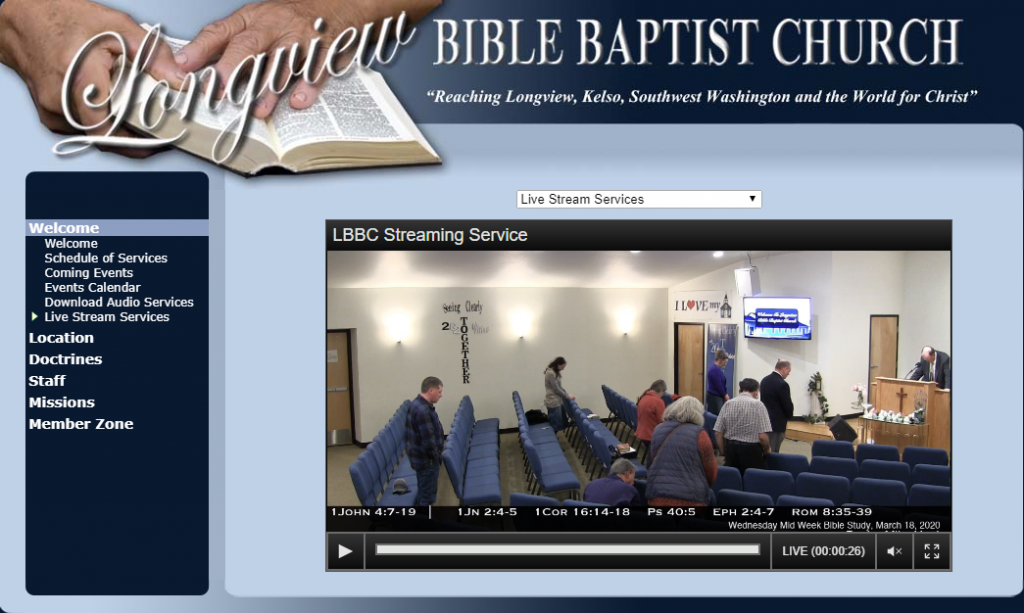 EXAMPLE: This screen shot of a real client's web page using EZWebPlayer was taken right after the State of Washington enacted restrictions during the Corona virus crises. Livestreaming became an even more integral part of this church's membership during this time.
"WHAT VIDEOS can be Viewed on our Web Site?"
Post your live services and then archive them quickly for viewing. Shoot your own sermons, choir, church events, youth groups, special services, more.
These days, with video technology in easy reach, do-it-yourself videos are not rocket science. Many churches – big and small – are shooting their own videos and posting them on their websites. Virtually all public services are now being presented via livestream. Surely there's someone in your congregation who'd like nothing better than to shoot videos and manage your church's video programming.
And remember, EZWebPlayer offers easy tech support. Contact one of our video tech experts. [email protected]
"WHAT KIND OF ONLINE VIDEO Could I Share on my Church's Website?"
Stream every sermon live, in real time. Archive every sermon. Catalog and organize unlimited videos for easy viewing. Post videos of choir performances. Rehearsals, too. Post bible passages and bible lessons. Post special news, notices, and events, and more.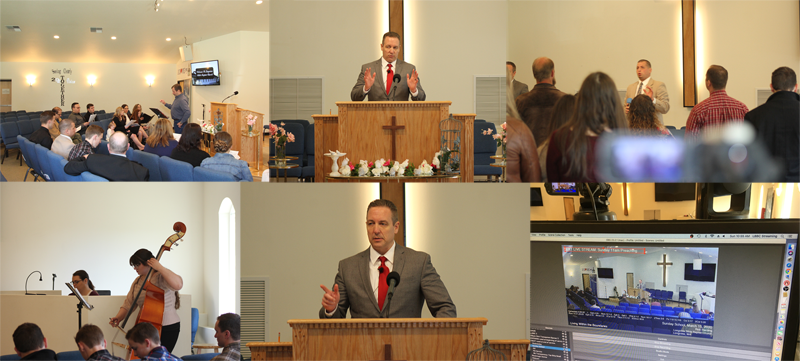 "IS IT DIFFICULT to Post our Videos to our Church Website?"
As the name says, EZWebPlayer is EASY. It's easy to post videos. It's simple to manage and operate with "click, drag, and drop" ease. Our easy how-to videos will make you an expert in no time. And tech help is always ready and responsive by phone and email.
877-647-9007 | [email protected]
"WHY NOT Post our Church Videos on Facebook?"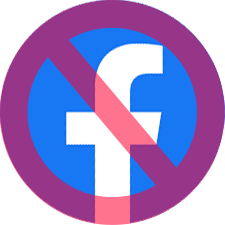 Facebook exists to make money for online companies. It's NOT set up to serve faith organizations. Here's why…
If you post your church videos to Facebook, folks go to your website to watch your videos. They click one of your videos and are routed to the Facebook platform where they're REQUIRED to login. Once logged in on Facebook, it's easy for them to be distracted by friends' posts…and it's HARD for them to get back to your website. Facebook makes it easy to be distracted.
"WHAT'S WRONG with Posting our Church Videos to YouTube?"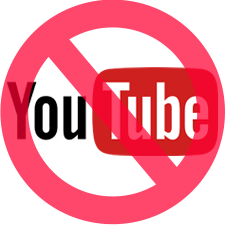 YouTube has a dark side. It gives you no control of your videos and can lead your viewers into very dark territory.
YouTube hosts videos of anything and everything, uploaded by anyone, anywhere. Many videos contain very disturbing, uncensored images and content. Your congregation can search for your video but, after it plays, you have no control over what plays next. Once on the YouTube platform, they've left your website and are now on the YouTube platform where they can easily get lost among thousands of videos with unknown content. Or possibly worse are all of the distracting religious videos that are off topic but still somehow "religious". This can cast a bad light on your church's reputation.
"OK, THEN, WHAT IS EZWebPlayer?"
Think of EZWebPlayer as your church's own private, online TV channel. It's the simple, affordable, and professional way for faith organizations to play and manage video on their websites. EZWebPlayer is your dedicated online video platform and player. It hosts your videos, catalogs and archives them, and plays them back with A+ fidelity and ease. It's easy to manage, even for those new to online video. It's easy for your viewers to watch your videos on any device – iOS, Android, and multiple browser environments, Google, Safari, Explorer, Edge, more.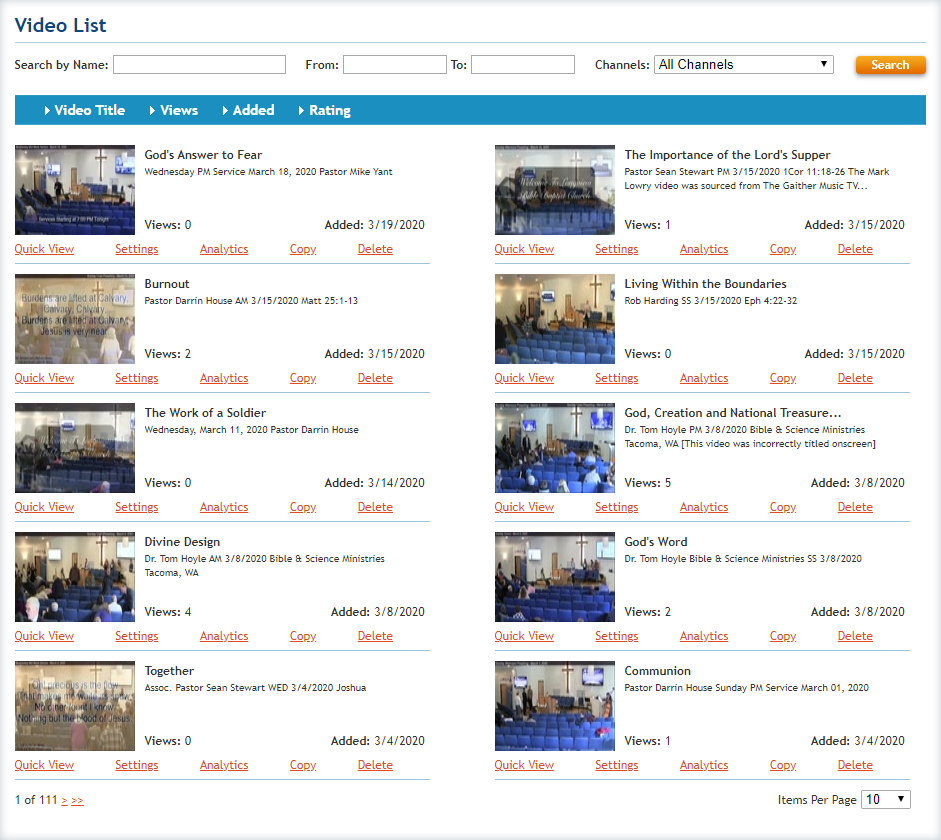 The videos that you can keep in your account are unlimited. Easy to keep track, easy to title and describe, easy to manage.
"SO, EZWebPlayer GIVES ME CONTROL Over my Video Programming?"
Yes, you're in total control. It's like having your own TV channel that shows only your programming – your videos, your livestreams and your promos. And your player (the on-screen rectangle your video appears in) even bears your "brand" – your church's name.
"WHY IS EZWebPlayer DIFFERENT AND BETTER Than Social Media Video Players?"
Social media video players are designed to make money for the companies that developed them. EZWebPlayer is YOUR video player, designed to give you and your viewers excellent, seamless video hosting, sharing, and playback. EZWebPlayer serves you and your members and guests. No one else. And, your videos can be as public or as private as you wish.
So, use Facebook and YouTube the smart way, making use of their huge audiences—post short teaser articles or even super short 10-30 second videos that link to your web site.
It's just as easy as that.
"WHY IS EZWebPlayer DIFFERENT AND BETTER Than Other Quality Players?"
There are other excellent video players out there. Searches reveal EZWebPlayer ranks among the highest in terms of features and service. And it ranks LOWEST in price among best quality platforms.
And with a FREE TRIAL and SPECIAL OFFER for faith organizations, it is an excellent, no-risk choice.
"WHAT ARE THE KEY FEATURES?"
EZWebPlayer bundles all the features that'll make your video programming simple, efficient, and powerful.
Custom Branding – your church name and logo appear on your player
Video on demand
Live Streaming
Domain rebranding
Automatic video site map – helps get video to search engines
Easy video management console
Simple-to-use video channels keep your videos organized
Unlimited videos
Great customer support
No third party ads, no advertising on your videos
Quick view customizable video landing pages
Rapid updates
Nimble and adaptable
Excellent Tech Support – we listen and respond promptly
Built on Amazon rock solid structure
Affordable
Easy scalability
Allow you to brand your content with your name/logo
Custom short url
Easy posting to social media platforms
"Can I SEE SAMPLES of what EZWebPlayer can do?"
Click here to see this template in action. We have many ready-to-use templates.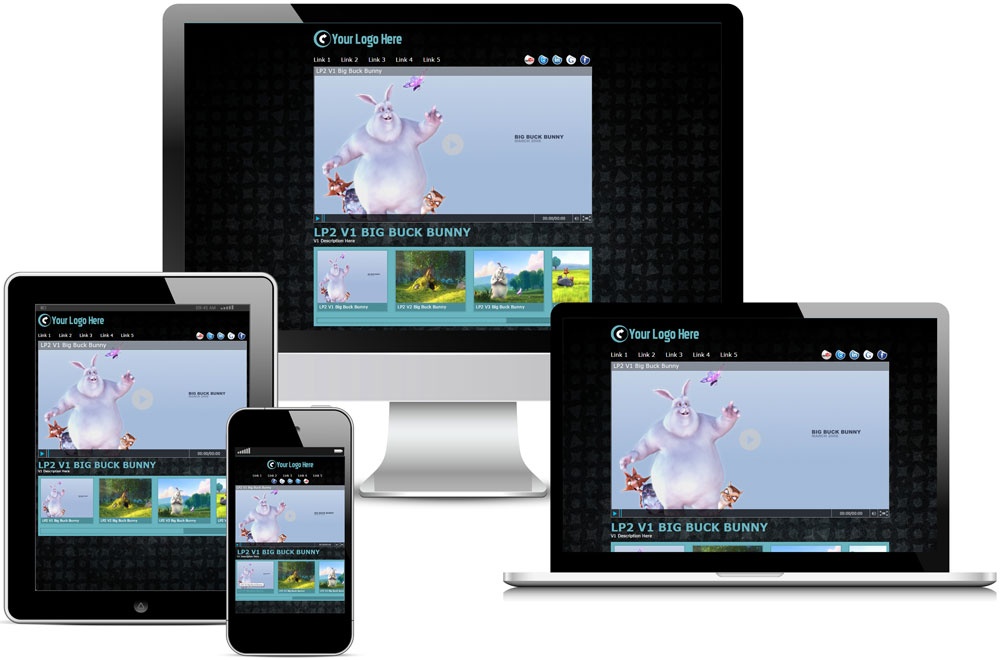 "CAN A NON-TECHNICAL PERSON Manage EZWebPlayer Programming on our Website?"
Absolutely. We designed EZWebPlayer to be simple for all our users, especially those with little or no online video posting experience. There's no coding. It only requires a skill level of copy/pasting text. Every player option is intuitive and simple to follow using the provided radio buttons, select your options and copy/paste the players embed code snippet. It's really that simple.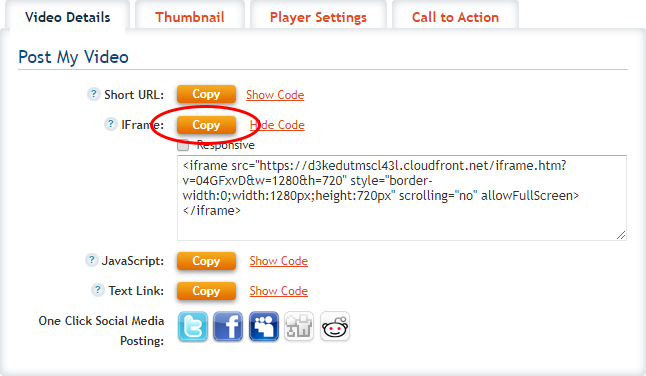 "CAN I GET TECH HELP if I Need it?"
Absolutely. Our team tech team for Faith based initiatives is head by Stu Marks, a member of Longview Bible Baptist Church, Longview, WA. Click here and Stu will email you.
Within just a few minutes of contact, you'll be setting up your live and uploadable videos.
"CAN I TALK TO SOMEBODY NOW Before I Sign up?"
Yes, you can. Email Stu, our head tech developer, right now and he'll get back to you!
877-647-9007 | [email protected]
"HOW MUCH does EZWebPlayer cost?"
EZWebPlayer is subscription-based. There are three service levels at different per-month costs. The service level most appropriate for many faith organizations is the White Label level which gives you live streaming and video-on-demand under your church branding. White Label is $55-$95 a month. The non-branded account level is Pro at $15 a month.
"DO YOU OFFER A SPECIAL RATE For Faith Organizations?"
Yes, we do. For a limited time, we are offering churches and other Faith Groups a free 30 days if they sign up for a year. But, you can cancel any month. Yes, this might sound counter productive, but what it does is help you get the best rate, the annual rate, which carries a 10% discount over the monthly price. So, if you stay with it, you are already plugged into the best pay plan, plus you get one month free. If you cancel, we refund the balance of your standard year, no questions asked, and we do it the same day you communicate to us the cancellation—no "administrative waiting period" like some.
"Does our church take any RISK with EZWebPlayer?"
There is no risk with our FREE TRIAL OFFER. We have a 7 day free trial. You don't even need a credit card to start trying the White Label. It's truly free with no gimmick. At any given moment we have many churches and individuals trying our service for free.
At the end of seven days, the service automatically ends and we still have never gotten your credit card number. Truly free.
"Do you GUARANTEE your services?"
EZWebPlayer GUARANTEES YOUR SATISFACTION. You will be delighted with EZWebPlayer's convenience, ease, simplicity, and the way it gives you great control over your video messaging PLUS a big step up in the professionalism of your online presentation. Try it with NO COST, for 7 days. If, within your Free Trial period, you are not delighted for ANY REASON AT ALL, we will promptly close your account and ask you how we might improve our service. That's how we work. We are here to serve you.