Availability Per Account Type
Description
This option can be found in the MyAccount page's White Label sub section and allows you to re-brand the login page's URL for your sub accounts as your own. This feature facilitates the creation and use of a custom login page for you and your sub account holders.
Setup
Step 1. Set up a new DNS CNAME record with your web host and point it to the Value shown below. Contact EZWebPlayer Support with any questions. Depending on your web host this process can take between 10 minutes – 24 hours.
Step 2. Go to the My Account tab and find the White Label sub section. Input your new cname for Administration Console DNS Name then make sure to hit the update button at the bottom of the page to save this change. This update can take between 0-5 minutes to take effect.
White Label Custom Accounts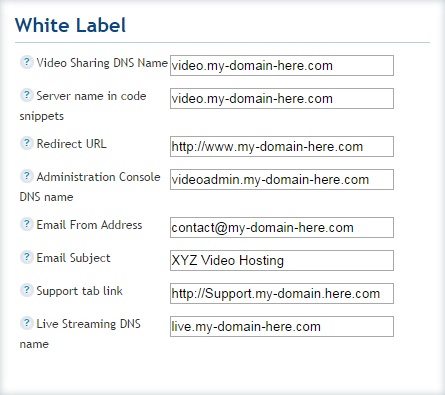 Step 3. Final Step – Contact EZWebPlayer Support to set up your SSL Certificate for your new DNS CNAME record.
Result
Now when you or your sub accounts go to videoadmin.my-domain-here.com you will see the login page using your companies branding.